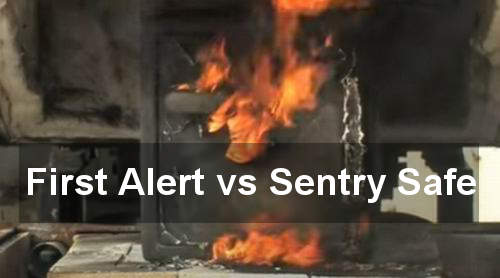 Do you need a fireproof box? It may be necessary for your business or home. The reasons are multiple. You may want to secure your valuables. Keeping official documents safe in an office is a must. Fire and flood risks should not be neglected. So, let's compare First Alert vs Sentry Safe. Which brand is the most reliable? Which products get higher UL rating? Are the safes suitable for storing firearms? Let's try to answer these vital questions.
Fire Risk in the USA
Fireproof boxes are to withstand high temperatures. They are designed to reduce the flow of heat, protecting your valuables and documents. Do you think, a house fire is hardly probable in your location. I wouldn't be so sure.
According to the US Fire Administration, 3,146 – 3,650 people throughout the USA die in a fire every year. Fire causes are various and dramatic. They include:
short circuits;
misuse of grills;
smoking;
faulty cooking and heating equipment;
children playing with matches;
lightning strikes.
The NFPA Association analyses the cases, trying to prevent human deaths, injuries, as well as property loss. The best fireproof box is able only to keep your valuables and documents safe. They remain intact during about an hour until the box is taken out or the fire is extinguished.
Wildfires are a common problem too. Multiple Kansas, Oklahoma and Texas areas are prone to them. However, residents of Southern California suffer from wildfires the most. The damage wildlife, acres of land and adjacent housing. The reason is in dry winds and sunny, desert climate.
Here you can see more information about best fireproof box!
Flood Types
Top-quality safes are water-resistant. They protect your important digital media, disks and photos in case of a flood. They remain dry for 1-3 days when the box is submerged underwater.
Are floods so common in the USA nowadays? Unfortunately, people are used to underestimating flood risk. Selecting a fireproof box for legal-size documents, we may pay less attention to its water protection properties.
Meanwhile, according to statistics, all 50 states experienced them during the last 5 years. Hurricanes Katrina and Harvey were the most destructive. By nature, flooding events are classified as:
inland;
river;
flash;
coastal;
urban.
Ice and debris jams happen when snow is melting. Persistent rainfalls can cause floods even in inland areas. Additionally, failure of drainage system may happen, exposing your legal and personal documents to danger.
St. Louis Port is prone mainly to river floods. For example, a large storm event happened in 2011 on the Missouri River. It started in May due to heavy rainfalls and extensive snowpack on the Rocky Mountains.
Prices pulled from the Amazon Product Advertising API on:
Product prices and availability are accurate as of the date/time indicated and are subject to change. Any price and availability information displayed on [relevant Amazon Site(s), as applicable] at the time of purchase will apply to the purchase of this product.
Do Fireproof Boxes Really Work?
The cases when fire or flood takes everything are undesirable. Important paperwork, at least passports and birth certificates should remain intact. What happens to them when the fire burns up to about 900° F?
CD and DVD disks do work.
Photos are not destroyed.
Laminated identification documents and cards are ok.
Paper documents may be damaged.
Unfortunately, A4 letters are spoilt by fire. Paper ignites at the temperature of about 451° F. It burns fast, contracting in fire. Therefore, look for the highest fire and water protection rating. Additionally, I would recommend you to put the papers to a fireproof bag first, then to a safe box.
What is the Best Fireproof Safe for Home Use?
Anti-theft, water and fire protection feature ultimate safe's functionality. Household application implies also compact design, ease of use and usability. For example, carry handle and internal light are beneficial features. Waterproof seal is another good option.
What are the safes and chests made of? Common ones include durable, metal sides. Fire-resistant boxes are typically made of heat-resistant, composite materials. Vermiculite and perlite are the best ones. They don't conduct heat. Therefore, the box content remains cool.
Do you want to get a discount for your homeowners' insurance? It's highly probable if you have:
carbon monoxide or smoke detectors;
fire extinguishers;
home security systems;
storm shutters;
updated pipes and circuit breakers.
Availability of a fireproof box may also impress your insurance agent. It does reduce the risk of your property loss. Additionally, in the event of a disaster, your policies and identity documents remain intact.
Prices pulled from the Amazon Product Advertising API on:
Product prices and availability are accurate as of the date/time indicated and are subject to change. Any price and availability information displayed on [relevant Amazon Site(s), as applicable] at the time of purchase will apply to the purchase of this product.
Range of SentrySafes
How do you think, which company is the oldest and the most experienced? SentrySafe manufacturer was founded in 1930. The factory is located in Rochester, NY. Meanwhile, it's just an affiliate of the worldwide recognized Master Lock Company. Its headquarter is in Oak Creek, WI.
Which products are manufactured and distributed under SentrySafe brand? The range includes more than 120 storage solutions for valuables and documents, such as:
document, business and portable safes;
cash boxes;
fire-resistant chests;
filing cabinets;
storages for guns and pistols.
Are safes good? I think they are preferable for home use due to multiple user-friendly features. The boxes are well-designed, compact, coming with handy locks. Water protection that lasts for 72 hours is pretty good. However, 2-year limited warranty is not the longest in the industry.
UL Rating of SentrySafes
Is it the best safe brand? I think so because it's reliable, field-specific and customer-oriented. But for the safes, it includes also UL (Underwriters Laboratories) that test and approve products.
Quite naturally, the boxes differ by sizes, materials, lock types and applications. Fire and impact protection classes are very important characteristics.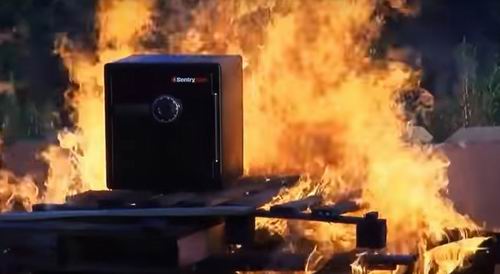 Particular Specifications
| UL Class (Max. Internal Temperature, °F) | Relative Humidity, % | Items to Protect |
| --- | --- | --- |
| 350 | 80-85 | paper records |
| 150 | 85 | photos and magnetic tapes |
| 125 | 80 | computer disks |
External temperature declared is up to 1550, 1700 or 1925 °F. Exposure duration is 30 minutes, 1, 2 or 3 hours. It means that the temperature inside the box during the fire should not exceed tolerable values during the specified time. It lets you select the safe for your needs and applications.
Which Products Bear First Alert Name?
But for its famous competitors, First Alert Company produces a wide range of safety products. It includes:
smoke alarms and detectors;
fire extinguishers;
escape ladders;
flashlights.
The brand was founded in 1958 in Aurora, IL. Is it the best safe company? It lets you make your home smart and secure. The enterprise mission is not only the products innovations and quality but fire safety. Its employees collaborate with communities to provide affordable opportunities and education.
First Alert Safes
What about the safes? Their range is not so numerous, but diverse. It includes chests, portable lock boxes and gun safes. Fireproof and waterproof options are available. 5-year warranty is provided. Meanwhile, the safes' anti-theft capabilities are perfect. They can be supported by alarms and similar unique features.
Overall Impression
So, what is the most secure safe in the world? It depends on its application and use. The highest UL class is 350-4 hours. Even if the external temperature is up to 2000°F, it protects paper documents. 72 hours seems to be the longest duration to keep the humidity lower than 80%. So, select the safe according to your needs, consider the brand and useful features. Meanwhile, never underestimate the risk. Keep your home or office safe.
Video: Sentry Safe Fire Protection Put to the Test