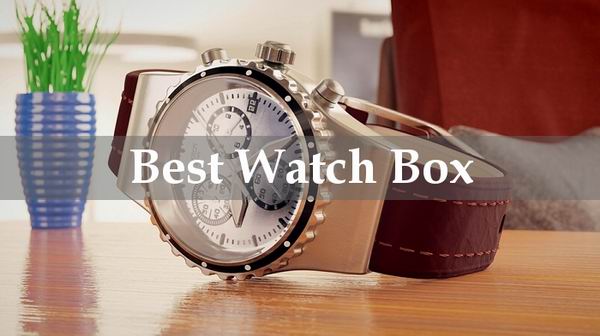 It is not easy to choose a gift for a real gentleman. In most cases, they have already got many things you could present them with. That is why it is important to pay attention to such great storage thing as watch boxes. You can choose the best watch box for a man to store his multiple accessories as it is impossible to imagine a prosperous man without an expensive watch on his wrist.
Buyer's Guide – How to Choose a Watch Box for Men?
You can hardly find a better present for watch collectors and men who just like quality timepieces than a good watch box. However, there are multiple stores that sell watch boxes and the final choice may be rather tough. Despite the fact that a watch storage case is initially meant for keeping watches, it may also serve as an organizer for jewelry and other accessories. In addition, there are some useful features in watch boxes that are present not on all the items sold, so they must be also considered. In general, there are several important characteristics to consider when you choose a watch box.
Material and construction quality
Despite the fact that most of the watch boxes have a sturdy construction they can be made of different materials. The most valuable and desirable by the buyers is wood. However, it will add cost to the case as well. Modern manufacturers substitute wood with other solid and durable materials that keep their form well and are massive enough to feel sturdy. You will not feel much difference as there is always an appealing finish on it.
Pay much attention to the quality of the exterior material as it is one that gets worn the most quickly. Many manufacturers prefer to use faux leather as it has a luxury look, can be cleaned and is rather durable. Always look if all the parts sit well, there is no extra glue to spoil the look and how well it locks.
Size of compartments
If an organizer keeps watches, it is necessary to understand if they fit. You can choose a storage case depending on the size of the largest watch. Every watch box description has dimensions of the compartment contained so you can understand if the diameter of your watch will fit it. One more important aspect to evaluate is the depth of the compartment to include oversized bracelets and the distance between the compartment top and the lid for the last one not to scratch the case.
Cushions & Soft lining
Cushions in the watch boxes must be made of soft pleasant to touch material to guarantee the utmost security as well as be large enough – similar in the diameter of the man's wrist. Even a pocket watch display case storage box should have standard cushions and compartments for watches to sit well. It is better to have fewer compartments rather than ones too small for a watch.
The storage case is bought by people who take care about their accessories and want to increase their longevity. Soft linings in the watch boxes guarantee that they will not get scratched or damaged.
5 TOP Watch Box in 2023
It may seem a trifle to choose a watch box for a man. What can be special in the case that is meant as storage for watches? However, you may be surprised to hear that every box has its exclusive features. And if one of the watch boxes suits one man, it does not mean that this example will be perfect for another male representative. Whether you are an attentive woman who is rather scrupulous in choosing presents for her spouse. Or a successful man who requires a functional and durable storage case for your watches. Be sure that every of these five ideal watch boxes will meet your expectations and among them, you will find the one to be the best out of the best.

1. Glenor Co 12 Slots Watch Box for Men: Luxurious men's watch case for large watches
The luxury watch box was designed by a famous Glenor Co company. This lovely box will keep all the watches organized and secure as well as visible at first glance at them. You do not need to open the case in order to choose what watch will match a current outfit. There is a sizable window made of glass and included in the modern carbon fiber box with PU leather exterior to be able to enjoy the beauty of these wonderful accessories. There are neatly looking stitchless corners and a sophisticated plate made of stainless steel and playing the role of a buckle that combines modern and classic features in a single storage box.
The box is made from solid materials to guarantee the highest quality and durability. There are sturdy steel hinges and wide walls to guarantee the highest protection of all the watches contained inside. At the same time, you can easily open it with a single hand and enjoy the brilliant contemporary interior.
When you open the storage case you see 12 quite spacious compartments. There is enough space to accommodate a watch of any size. Every slot is laid with a soft cushion made from velvet. It is extremely smooth and pleasant to touch to prevent your accessories from scratches. In addition, the cushions will present all your watches decently even with the lid closed.
Features and benefits
The watch box can easily hold 12 watches of different size. Its dimensions are 14.25 inches long x 8.5 inches wide x 3.5 inches high. The size of the inner slots is 2 Inches wide x 3.5 Inches long. The case weighs 5.2 pounds.
The manufacturer guarantees the premium quality of watch boxes of this series and offers everyone a full refund in case of dissatisfaction with the product. In addition, every buyer will get a gift box with a blank gift card included making this watch box a special and presentable present.
Pros
Outstanding quality and construction;
Sits well on any surface;
Long-lasting;
Easy to open;
The cushions are strong enough to hold firmly even heavy watches;
Suitable for being engraved.
Cons
A metal plate can magnetize an automatic clock, and they do not work properly;
Not reliable hinges.
Verdict
Being one of the luxury watch boxes for men from a famous manufacturer this watch box is really reliable and good-looking. It is natural that any product may be broken but if used carefully, it may serve for decades. Its main benefit is the capacity as not every case can include 12 watches, huge ones in particular. Moreover, if this storage case is bought as a present, you do not need to spend extra money on a wrap and invitation card – everything is included by the brand. A decent gift for watch aficionados.
2. SONGMICS 12 Slots Watch Box UJWB012: Exclusive watch box for large face watches and other jewelry
Combining features of a watch box and organizer this case is produced by Songmics company that majors in home decor. It will make all the men's accessories be stored in one place and protected from the outside influence.
Meant for successful men this product exterior is made from medium density fiberboard, enclosed in a premium faux leather of the black color and stitched with a white thread for a neat look. There is a glass lid that provides a perfect display of every watch and a reliable lock with a key for the top security of every accessory. Two keys are included. The product dimensions seem quite impressive: 12.8 inches long x 7.6 inches wide x 5.1 inches high.
The storage unit consists of two parts: a lower jewelry tray and an upper watch slots unit. It is laid with a quality soft gray velvet lining to guarantee the protection from scratches or damage.
The second tier is located under the watch unit. It consists of two side slots big enough to store glasses, bracelets, chains, cufflinks, tie clips etc., a ring case and two stud earring slots in the center. Both men and women will adore this watch box as it has enough space to keep all the jewelry and precious accessories.
Features and benefits
The glass lid in the leather frame with the metal support can be opened multiple times without being afraid to break it down.
The tier with watches consists of 12 slots with soft pillows to support watches. Every watch slot dimensions are the following: 3.2 inches long × 1.75 inches wide × 1.5 inches high. The pillow size is of the same width and a bit shorter.
This organizer will be an adornment of any room thanks to its elegant design. It will stand still on any surface being rather heavy even empty – the box weighs 4.4 pounds. However, it will secure your valuable things from children and pets as well as inquisitive guests.
Pros
Enough space for large watches;
Looks sturdy and masculine;
Well-fixed glass in the lid;
The lower tier can be removed;
Lockable;
Good capacity.
Cons
Too small earring holders;
The lid is not able to stand on its own;
Not reliable lock.
Verdict
This wonderful product will be a great example of leather watch cases for collectors as it includes 12 slots for watches that are large enough. In addition, you get a great organizer for many other things. This storage case will substitute either a jewelry box or a watch one. It is wonderful that you can lock it with a key and be confident that nobody will take anything. There are a contemporary and ergonomic design and all the necessary functions, so you will enjoy possessing such a great item.
3. Sodynee WBPU12-03 Watch Dislpay Box Organizer: An excellent example of wooden watch boxes for men
If you are a fan of timepieces and require a storage box for them, this case is one of the best watch boxes. Designed and manufactured by a leading company Sodynee it makes everything to satisfy its clients. The brand pays much attention to the products it offers and the quality of customer service it provides.
This organizer is designed in the vintage style to satisfy men who prefer reserved classics. Combining beauty and elegance it will store watches of different styles and sizes securely. Every watch is laid on a separate pillow to prevent it from scratches and damages.
The watch box has a solid wood construction that guarantees its stability and durability. Its interior is covered with black PU leather trimmed with white stitches. The dimensions of the storage case are quite reasonable: 11 inches long x 8 inches wide x 6 inches high. In addition, it has a transparent glass lid to see most of your accessories without opening the box. It remains open due to foldable metal support on one side.
The interior of the storage case is not less chic. It is lined with a soft anti-garnish velvet fabric of gray color and has 12 compartments to fit all your watches in one box. Every slot has a soft pillow to support your watch and is approximately of the following size: 3.5 inches long x 2 inches wide x 2 inches high. The watch case is locked with a key for added safety, two of them are included. The item weight is 2.65 pounds.
Features and benefits
The manufacturer takes care of its customers and offers to replace or return a full sum of money if anything happens with the product or a buyer changes his mind.
Pros
Fantastic quality;
Custom dividers can be removed;
Enough space for big watches;
Thick glass;
Superior customer service.
Cons
Unreliable locking mechanism;
Too long cushions.
Verdict
This case is one of the watch boxes that is well-designed and sturdy. Despite being not advertised as a watch box for oversized watches, items of different sizes easily fit it. There are quite long cushions that make them suitable for a wide masculine wristwatch while a lock with a couple of keys will keep all the timepieces secure. You can remove dividers and cushions to store other items in the case too. A nice storage box for watches from the company that values its clients.
4. TAWBURY 8 Slot Watch Box for Men: Premium oversized watch storage box for men
The Montego box from Tech Swiss company was designed especially for oversized watches. If you are a happy owner of the watch or several items with the case up to 65 mm in diameter, this watch box was designed for you. It can easily fit any watch of big size thanks to XL compartments.
The watch case is quite sizable with the following dimensions: 14.5 inches long × 8.5 inches wide × 6 inches high. The case is bigger than other watch boxes because it consists of two drawers each of which contains 10 compartments. In total, the box includes 20 compartments for large watches.
The case is made of solid wood. Its exterior looks luxurious due to the rich wood-like finish painted black. The inlaid lid has a Lucite window to enjoy the look of the brilliant timepieces anytime you glance at them. It is attached with two hinges for comfortable opening and closing.
As soon as you open the box you will see only ten compartments for watches. All of them are lined with charcoal velvet fabric and contain a soft cushion inside. This soft item prevents watches from damages and supports the form of the bracelet. The average size of each compartment is about 3.75 inches long × 2.5 inches wide × 2.75 inches high.
Other ten compartments are located in the lower drawer with a metal handle. It is lined with the same material and has ten slots that are a bit narrower and shorter. Cushions located there are smooth and removable as well.
Features and benefits
The watch box weighs almost 8 pounds and looks sturdy and rich.
Pros
Awesome look;
Solid construction;
See-through window:
Slots fit oversized watches with the case up to 65 mm;
Multiple compartments;
Comfortable in storage and removal of watches to put them on.
Cons
A drawer may get stuck and difficult to pull out;
The top is not made of glass.
Verdict
Being an example of watch cases for men designed for oversized watches this case will be a perfect purchase for collectors. It includes 20 compartments to fit watches of large and average size as the lower drawer is a bit smaller than the upper one. Unlike many other boxes, this storage case has an exclusive finish that will make it look marvelous on any surfaces. It makes the half of the watches visible and the other half hidden from the eyes. An interesting product for people who look for watch boxes with XL slots.
5. Ohuhu 12-Slot PU Leather Watch Box& Jewelry Box: Great travel watch case of the most suitable size
A definitely stylish and beautiful case from Ohuhu is a comfortable jewelry organizer and a watch box. Used for accessory storage it is modern and delicate so will look wonderful both at him and on business display. The watch box dimensions equal 12 inches long × 8 inches wide × 3.2 inches high.
The watch box is made from solid wood that makes it sturdy and reliable. It is enclosed in a PU leather of black color with nice delicate stitches for a more appealing look. It makes the case presentable and luxurious. The lid has a glass window that allows the owner to see every watch with the smallest details considering what accessory will be worn the next. There are two ribbons supporting the lid for better opening and closing. The box may be locked with a key for keeping all the watches secure and prevent any damages. One metal key is included.
The watch box interior is no less appealing than the exterior. Lined with a beige velvet it looks extravagant and modern. There are 12 compartments for middle-sized watches. Every slot has a soft cushion that will hold a bracelet or a watch in the upright position. It guarantees that your watches will not get scratched even if they fall down in the box and you can easily take them with the cushion that is removable. The size of each compartment is 3.5 inches long × 2 inches wide and 0.5 inches high.
Features and benefits
The box is not very heavy even despite its solid structure. The item weight is 2.5 pounds.
Pros
Excellent customer service;
Good quality;
Fashionable look;
Sturdy;
Glass lid provides a nice view.
Cons
Too sizable cushions for only large wrists;
The cover of the watch box will probably be not tightly closed if we put the clock too large.
Verdict
A wonderful mid century modern watch box from a reliable manufacturer is a good choice for personal use, business, and gifts. You will not be disappointed with the quality as it looks very elegant and exclusive. The combination of black and beige adds value and looks wonderful when all the watches are in their places. It is possible to include 12 watches though not very big. A great advantage of the storage case is its quite sizable cushions created especially for man's wrists so every watch will sit well. A good choice for storing watches and accessories that looks well on any furniture piece.
General Conclusion
Modern watch boxes are produced in a variety of forms, materials, and sizes. You can prefer not only a watch box but also a high-grade organizer for different accessories and jewelry. At the same time, it is preferable to choose products with a glass lid to be able to see the watches on display or a mirror to reflect how well they sit on the wrist. There are lockable examples and ones with a plate for engraving. Some watch boxes are sold with a holiday wrap and a congratulation card too.