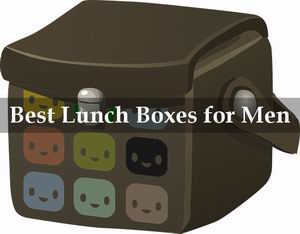 The key to a good man's health is his nutrition. No matter whether he goes to work, on a business trip or a bike ride in the mountains, he should have a healthy bite with. The most comfortable way to provide him with it is to buy one of the best lunch boxes for men.
A lunch box is a very useful thing. It was created for storing food you take with and prevent you from unpredictable spills or crunches. Provided with a lid that can be closed tight you can keep there any food and it will preserve its mouth-watering look. In addition, it is light and convenient for different life situations when you need to charge with energy. There are also quite sizable lunch boxes that work like insulators and keep the temperature of the content for a long time.
Buyer's Guide: How to Choose the Only Among Best Men's Lunchboxes
Lunchbox is a must-have of the modern world. As many people tend to forget about their health and the significance of home-made food. In addition, you always eat only free meals thanks to it and can save money on expensive. And often detrimental food purchased. But for the lunch box to be a good companion of yours, it is necessary to evaluate several features that might play an important role in everyday use. Here are some of them:
Size
Sizes of lunch boxes are incredibly various so you should consider how much you take with to understand what your best size is. Of course, it is better to buy a bigger example to locate everything it as often lunch boxes are taken not only to work but also to family trips or rest in nature so the amount of food required grows and size will really matter. In search of a lunch box, heavy-duty materials and reliable accessories will be a good addition.
Insulation
Insulated lunch boxes are chosen by people who prefer to eat fresh meals during a long period of time. But if you have a fridge at work and can leave your meal their insulation might not be important then. Naturally, insulated bags are more reliable and comfortable as well as prevent you from consuming spoilt products.
Number of compartments and pockets
Many people believe that lunch box must be used only for food but they forget how many other items apart from meals are needed to make the process of consuming food pleasant. Spoons and forks, napkins and different dry snacks, beverages, and herbs are only some of the things to store in your bag. That is the reason to choose a product with multiple pockets and compartments to fit everything easily. Usually, these are mesh or zipper pockets inside and outside the box, but some bags even have ones for comfortable transportation attached to luggage.
Accessories
There is always a question if it is better to choose accessories separately from the bag or take a lunch box with every the necessary included. Many lunch boxes are sold with a set of containers or/and a bottle. So you do not need to spend extra but have to deal with items provided. However, if you want anything special and realize that the things included are odd. Choose a lunch box first and only then consider to buy accessories.
TOP Lunch Boxes For Men in 2023
Food stored in the lunch box looks neat and does not reveal smell being enclosed in the item that keeps its form. It is especially important for men who want to look serious and do not wish to get dirty or have a sandwich-like smell after a snack. Moreover, they would hardly wish to take steel lunch boxes for adults that are heavy or have a low capacity. That is why it is necessary to pay much attention to the choice of the best insulated lunch bag for men to provide them with lovely snacks wrapped and stored comfortably.

1. MIER Adult Lunch Box Large Cooler: Best Working Man Lunch Box
The following double-deck lunch bag is created by Mier company that majors in the items to carry. It does its best to make every product sophisticated and suitable for sports and other activities. This bag was developed with this in mind too.
MIER lunch box is rather big. It is 10.2 inches long, 7.9 inches wide and 11 inches high. At the same time, it weighs only 1 pound and can be easily carried by both men and women. There is one grab handle, a long shoulder strap that can be adjusted to the necessary length and is connected with the bag with the help of durable buckles. All the stitches are reinforced for a loaded lunch box to be reliable too. Every zipper has a Mier logo on and is comfortable to open and close due to the strings attached.
Features and benefits
Being one of many insulated lunch boxes this example has two compartments: the upper dry one for snack food and the lower leak-proof compartment for hot and cold meals. Top compartment features a sizable U opening with two zippers to be accessed easily. The bottom compartment is insulated with a soft, eco-friendly and safe PEVA liner as well as thick insulation inside to preserve the food temperature and keep it fresh. The inner material is easy to clean and very long-lasting.
The lunch box exterior has several more storage places. There is a front zipper pocket to store utensils and two side pockets. Have everything you need with and keep your meals fresh during the whole day.
Pros
Sturdy;
Strong zippers;
Good capacity;
Nicely made;
Looks fashionable and modern;
Easy to use.
Cons
Gets ripped quickly;
Does not fit a backpack.
Verdict
One of the most trendy insulated lunch bags this box is very comfortable and has a plenty of space for meals. You can easily fit there three containers with food in the lower compartment and fill all other pockets with multiple items as well. It keeps the temperature within several hours and is easy to carry even loaded with food. All men would be happy to get such a great insulated case as a gift.
2. PWRXTREME Lunch Bag Large Size: Efficient Working Man's Lunch Box
Pwrxtreme majors in crafting products that are referred to a healthy lifestyle so this lunch box is one of the premium-quality items designed for men, women, and children. It is a wonderful insulated bag that will keep the content hot or cold within a long period of time to provide its owner with a fresh and beneficial meal. Bag is spacious enough to maintain all the dishes you enjoy eating including mains, snacks, and beverages. There is also enough room for ice packs too.
Pwrxtreme lunch box is of black color and has a modern ergonomic design. The dimensions of the bag allow putting in it everything you might need: it is 9.5 inches long x 7.5 inches wide x 9.3 inches high. It is made of high-quality materials to prevent ripping. There is a premium nylon fabric that is tolerant to punctures, ruptures, wearing and tearing. In addition, it is resistant to water and can be easily cleaned.
The lunch box features a top U opening with double two-way zipper for comfortable closing. There is a mesh pocket attached to the inner top and a comfortable double-sewn handle to carry the bag. The adjustable detachable 48-inch shoulder strap is reliable and durable too and can be attached with the help of quick-release thumb clips made from durable plastic. Other places of storage are the front zipper pocket and two side mesh pockets.
Features and benefits
The interior of the lunch box is lined with a safe peva material. That is easily cleaned in case of any leaks or spills. There is a premium polyethylene foam under. It to guarantee excellent insulation and maintaining the food temperature up to 12 hours.
This lunch box has an excellent quality, is lightweight and durable in order men could eat healthy food under any circumstances.
Pros
Lightweight;
Ergonomic;
Premium quality;
Keeps the temperature for a long time;
Roomy;
Durable.
Cons
Belt clips may eventually loosen;
Difficult to open if full.
Verdict
This men's lunch bag for work is designed with the goal to promote healthy home-cooked meals. Thanks to the long-lasting insulation and good quality the lunch box is appreciated by many people. Who has already tried using it? Pwrxtreme is one of the better-insulated lunch boxes for construction workers and people of many other professions. Bag is preferred for its plenty of space, trendy look and efficiency.
3. Fit & Fresh Jaxx: One of Most Efficient Lunch Bags for Men Insulated
You should consider this bag among other lunch boxes if you like going in for sports or do that professionally. It is designed with the goal of healthy eating and apart from the bag for men you also get a set of containers to measure portions and a shaker bottle.
Jaxx FitPak is trusted meal preparation and portion control system that suggests all the items necessary for charging your organism with energy.
The lunch box is compact and suitable for multiple time use. However, there is enough space to pack all the meals you must eat during the day. You can prefer any bag color and pattern suitable both for men and women. One more important feature is a peva insulation liner to keep the content temperature stable. It is not only non-toxic and safe but also BPA-free and is easily wiped out if gets dirty. The bag can be put in the fridge but it is forbidden to put it in the heating and automatic washing devices.
Features and benefits
Together with a lunch box, you get a set of containers and a shaker bottle to match the bag. There are six leak-proof containers two of which are similar to the capacity of 200ml and four others can include about 400ml. Every container has measurement markings for the opener to be able to figure out how much food is there. A shaker bottle features a unique Jaxx agitator and is to be used for different drinks including different mixes. One more pleasant benefit is a matching vitamin case for small-sized things to be stored in the inner mesh pocket. There are 5 tiny compartments for pills and supplements.
The lunch box is easy to use thanks to the front zipper to close it fully and side mesh pocket designed for a bottle. The dimensions of the lunch box with containers and a shaker bottle are 12 inches long x 7 inches deep x 9 inches high.
Pros
Trendy and comfortable;
A good combination of the bag and containers;
Excellent quality;
Keeps food temperature throughout the whole day;
Durable;
Perfect for athletes and people on diet.
Cons
Lack of pockets;
Pretty small.
Verdict
Quite a good solution for people who want to get everything in one purchase. Men who will buy such a lunch
box will prevent
themselves from extra spending on containers and bottle for drinks as everything is included. The bag is of high quality and guarantees excellent insulation so any food stored there will stay fresh within a long period of time. It will suit those people who like to eat different meals in small portions.
4. Mojecto Large Cooler Bag: One of Best Heavy-duty Lunch Boxes for Adults
This cooler bag is one of the best among lunch boxes. It is large enough to include several meals in a comfortable way thanks to multiple pockets and two big compartments. Deep blue color is resistant to dirt so every man will be happy to get such a lunch box. It is comfortable to carry the bag with two short handles covered with leather one long adjustable strap to be put on the shoulder. The last one can be removed if not used. Box keeps its form well and can be transported easily thanks to 10 inches wide trolley pass through to be put on the luggage handle.
This reliable lunch box is made from a durable resistant to fading 840D polyester material that is thicker and more reliable than ones used in small lunch boxes. There is dense insulation made from thick foam under it to keep the temperature of the content as long as possible. Two wide peva liners sealed with heat, sizable powerful double zippers, and additional stitches contribute to that too. There is one more extra liner included if anything happens with two basic ones. The bag can be used only with ice packs and gels intended for lunch boxes.
Features and benefits
There is plenty of space in this large bag. You will find multiple compartments and pockets to place all the food and drinks carefully. Many of them have zippers and strings for better storing. Comfortable netting pockets inside the lunch box are highly durable while two extendable side pockets will add space if more required. There is an ID pocket at the back of the lunch box too.
The lunch box has two insulated compartments. Men can use them separately as there are a top and bottom compartment for reasonable food and drink storage.
This bag is large enough to keep everything necessary: 15 inches long × 9 inches wide × 12 inches high. The average height of the upper compartment is 4 inches and the lower one – 8 inches.
The manufacturer provides a lifetime warranty on the lunch box that can be easily replaced if gets damaged.
Pros
Lightweight and portable;
Easy to clean;
Spacious;
Long-lasting construction;
Leak-proof;
Well-insulated;
Versatility.
Cons
Can begin ripping next to zippers or strap attachment.
Verdict
A high-quality lunch box is large enough to feed a good company. There is enough room for both food and accessories as it seems that the number of pockets and compartments is endless. In addition, a thick polyester fabric is durable and easy to clean, so the lunch box will serve its owner for a long time, especially thanks to the additional liner included. An excellent alternative to professional aircrew bags and not only.
5. ThinkFit Insulated Lunch Boxes: Highly Reliable and Insulated Hard Lunch Box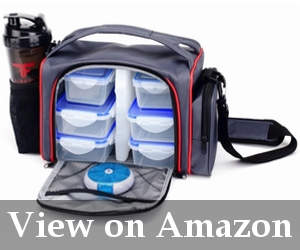 ThinkFit is a company that deals with products for fitness so it is not surprising the lunch boxes of this manufacturer will be also devoted to fitness goals. The following example is one of several lunch boxes for men to guarantee fresh and well-stored meals any time of the day.
The bag is made from a heavy-duty material that makes it perfect to be used on a daily basis. There is a comfortable double-stitched handle on the top so that the bag did not get torn or slipped out of the hands and a long strap to hang it on the shoulder and give rest to your hands.
The lunch box is provided with double insulation which is a guarantee that your goodwill keeps its original temperature as long as possible. Design of the bag is elegant and sophisticated so all men can take it with independent on the clothes style or destination.
In addition to a quality insulated bag, you get 6 lunch box containers and a shaker cup. All the containers are characterized by compactness and versatility being safe for dishwashers and microwave ovens. Two containers have a capacity of 300ml and four of them – 500ml. There are 4-sided snap lids on each of them so containers are leak proof and durable. A shaker cup has a capacity of 20 oz and includes 3 small storage containers to be put inside it. There is also a 7-compartment box for vitamins and pills included too.
Features and benefits
The lunch box has enough storage space for all those items as there is a big front zipper U opening with a mesh inside as well as two side pockets for a cup and other small items.
ThinkFit company gives a lifetime warranty on all the products so if anything happens to the bag or you are disappointed with the purchase, you may get a full refund. In addition, 1% of each sale is given for charity to help the poor.
Pros
Adjustable shoulder strap;
Safe for microwave and dishwasher containers;
Excellent customer service;
Great versatile shaker cup;
Sturdy and solidly built;
Nice capacity.
Cons
The small number of compartments;
Container lids do not seal with time;
Sucking ice pack.
Verdict
The set is a great lunch box to meet all the expectations of men who keep track of the calories consumed. Being not a metal work lunch box, it is quite heavy. The emphasis in it was made on healthy eating. So you may place all the meals in different containers and store powder separately from the liquid. In general, this solution can be used by representatives of different professions. Who needs to keep food fresh within a long period of time without a refrigerator. Great and quality product with many additional items.
Conclusions and Recommendations: Best Lunch Boxes for Men
Following these simple pieces of advice, it will not be difficult for you to find better among lunch bags for work. Men prefer to have comfortable and ergonomic things but the quality and durability should not be underestimated as well.