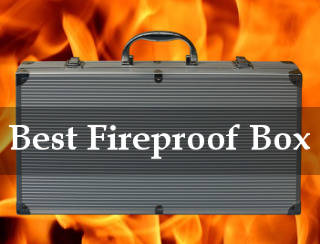 Every person has precious or very important things and documents that can never be lost, damaged or stolen. However, you will not be able to take a lockable age with you to keep them secure. For this purpose, it is important to obtain the best fireproof box.
In other words, heavy-duty carry bag that will prevent the content from the influence of fire, rain, snow and many other unpredictable situations. Such a box can withstand even extreme fire temperatures so you can be confident that everything stored inside will remain untouched.

Buyers' Guide: How to Choose Best Fireproof Storage Box?
It may seem that the probability of fire is very low but when it happens many people wish they had stored their important documents and valuables in the fireproof place. A box is a perfect place to have all these things with and be confident that they are in safety. However, the choice of a fireproof box is a challenging task if you treat it with responsibility. There are several features to consider when you choose the best fireproof box.
Material
Most of the fireproof boxes are made of metal or durable plastic. Both materials are subjected to tests at high temperature and show impressive results.
Extreme temperature and time period it withstands
Every fireproof box must be tested before it is offered for sale. Many manufacturers indicate what extreme temperatures box can withstand and for what period of time – usually it is from 15 minutes to 1 hour.
Lockability
Of course, it is better to prefer a box with the lock for higher security. Additional latches or compatibility with cable locks will be a plus.
Portability
Not big fireproof boxes are usually bought to carry it with you. That is why it should have one or several handles to carry them without effort.
Conclusion
Modern fireproof boxes have many different features: they are insulated, equipped with biometric locks, have inner trays, mats or dividers, support for a lid, safe box with a tracking device, etc.
TOP Fireproof Box in 2023
Fireproof boxes are made of different materials, have many characteristics and designs, so it can be a challenging task to find the best fireproof cash box. A deep analysis of the modern market allowed us to determine the models worth your attention and choose the one you like most of all.

1. SentrySafe 0500 – Fireproof Safe Deposit Box for Home and Office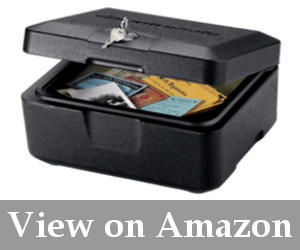 It is great when a fireproof box is not only reliable but also has a modern design. It is exactly what you can say about a SentrySafe fireproof chest. This small digital safe box has a nice sleek design with the dominating black color and rounded edges. However, its fireproof characteristics are not less impressive.
You can entrust this box with a responsible task to keep your important papers, digital media of jewelry in safety as it is not subjected to high temperatures.
This fire enduring box is UL classified and ETL verified as it keeps the content safe for about 30 minutes even at the temperature of 1550°F.
This best fireproof lock box is so because it has two comfortable grips for easy transportation. It is one of the extra-small fireproof boxes with the following dimensions of the exterior: 12.2 inches long, 10.3 inches wide and 6.1 inches high. The interior dimensions are such: 9.7 inches long, 7.3 inches wide and 3.8 inches high. The total capacity of the fireproof box is 0.15 cubic feet and weight is 11.75 pounds.
Interesting facts
The box is lockable. There is a flat key lock to secure what is kept inside the box from other people's eyes and prevent the lid from opening in case of fire.
Pros
Heavy-duty;
Long-lasting;
Portable;
Lightweight;
Nice design;
After-fire replacement guarantee;
Professionally tested and approved.
Cons
It turns out there are no shortcomings.
Verdict
SentrySafe fireproof box differs from others with its sleek design. It can be not only a storage unit at home or in the office but also an interior decor. Reliable and durable, the safe is equipped with a personal lock and has 0.15 cubic feet of total storage space. Its excellent fireproof characteristics are proven by tests.
2. Honeywell LHLP1104G – Best Fireproof Document Box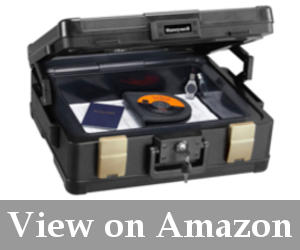 When you choose a certain product, you wish it could have the best characteristics among others. Be confident, this Honeywell safe box is one of the most reliable home safes and lock boxes you could ever see.
If you need to keep valuable letters, documents or things safe from fire or flood, this fireproof box is the right choice. It has excellent characteristics that make it outstanding among others.
There is 1-hour fire protection that can withstand extreme temperatures at 1700°F/927°C.
In addition, the fireproof box is provided with a quality waterproof seal that will secure the content from getting wet up to 24 hours at the depth of 39 inches. The exterior dimensions of the box are the following: 19.9 inches long x 17 inches wide x 7.34 high. Its total weight is 56 lbs.
The box interior is a bit smaller being 14 inches long, 12 inches wide and 3.8 inches high, but it is enough to store a big pile of documents, electronics, and other non-sizable things. The box capacity is 0.38 cubic feet.
Made of ABS plastic this safe features a comfortable grip handle for easy transportation. The box is lockable with two keys included. For better security, there are two metal dual compression latches for better water protection.
Interesting facts
The fireproof box has a 7-year limited warranty from the manufacturer. However, if a box exterior is damaged in the fire, be sure all the content inside will be protected and the manufacturer guarantees a lifetime after-fire replacement.
Pros
Excellent fire protection;
Waterproof;
Lockable;
Portable;
Solid lid;
Nice quality;
Durable
Cons
Heavy;
Latches are not reliable.
Verdict
Honeywell fireproof and waterproof box is long-lasting and quality. You will love its sturdiness and reliability as even extreme temperatures cannot subdue it. Keep documents, electrical devices, and hardware safe from water and fire in this large and lockable box.
3. MMF 221614003- Good Fireproof Box for Home Use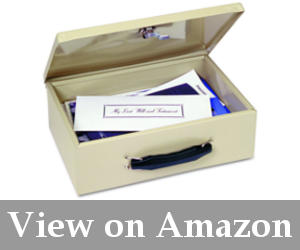 Valuable things should be stored in the special places where you will feel confident for their security. One of such places is a fireproof box from SteelMaster.
Used both at home and office this box will keep everything from passports to luxury jewelry in safety.
The fireproof box is made of heavy-gauge steel and has double insulation inside. Such construction was tested at the temperature of 750° F for 15-20 minutes and the content of the box was absolutely safe.
SteelMaster fireproof box is locked with a key. A key latch is reliable and guarantees the utmost security. In addition, there is a soft carry handle to take the cash box with if you go anywhere.
The box is quite large with the following dimensions: 12.6 inches long, 8.8 inches wide and 4 inches high. It is designed in the form of a rectangular case of light sand color. The total weight is 5.3 pounds.
Pros
Lightweight;
Insulated;
Perfect for paper size;
Lockable;
Great quality;
Long-lasting;
Easy to use.
Verdict
What is the most important feature of a small
fireproof safe
? Of course, it is to keep the inner content secure in case of a fire attack. This SteelMaster fireproof box copes with this task effortlessly. It withstands high temperatures and you should not ever worry about your documents.
4. Nadex Steel Security Chest – Useful Fireproof Storage Box of Small Size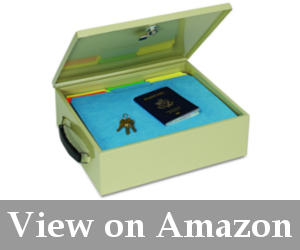 The most significant papers and precious items do not require much storage space so it is enough to get a small metal safe box like a jumbo chest from MMF Industries.
MMF fireproof box is not very big but it can include A4 paper size documents (9 by 12 inches) without any difficulty. The box has such dimensions as 13.7 inches long, 11 inches wide and 4.4 inches high. It weighs 6.5 pounds if empty.
It is made of durable steel and has double interior insulation to get excellent fire-retardant characteristics. The laboratory tests were performed at the temperature of 750°F for 15 minutes and the fireproof box has completed them successfully.
The security chest is equipped with a metal lock to hold the lid securely and two grip handles to take it with wherever you go.
Pros
Perfect to have documents organized;
Sturdy;
Lightweight;
Portable;
Lockable;
Pleasant-looking;
Insulated.
Cons
It must be ensured that the lid is tightly closed.
Verdict
Metal is one of the most durable and best fireproof materials that is why if you
choose a steel box
to keep your documents secure, you will make the right choice. This MMS Industries secure document storage box differs from others with its ergonomic design and nice insulation. Good fireproof characteristics of this portable fireproof file box are confirmed by the test.
5. First Alert 3031F – Durable Fire Resistant Box for Documents
You can hardly find a more lightweight fireproof box than this model from First Alert. However, its fire-retardant features are highly competitive with other boxes.
The fireproof box is made of steel covered with powder coat finish of dark gray color. It makes the case both durable and good-looking. The walls have double insulation to prevent the content from heating and getting damaged in high temperatures.
You can store both money and other not big valuable things in this box to protect them both from fire and thefts. It is lockable and is sold with 2 keys. There is a protective floor mat inside the fireproof box for all the things inside not to scratch or get damaged.
First Alert box is portable too. It is rather lightweight not exceeding the weight of 4.6 pounds and there is a comfortable grip handle on one of its sides.
Pros
Lightweight;
Insulated;
Durable;
Prevents the content from damages;
Solid;
Thick metal;
Nice design.
Verdict
It is a model of fireproof lock boxes and safes that has all the necessary characteristics it should possess. It is lightweight so portable, steel and insulated so reliable, lockable so safe. There is enough space for documents, digital media or jewelry so all your precious things will be always with you and stored securely.
6. Honeywell 1112: Fireproof Safe Box for Important Documents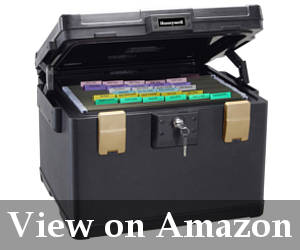 Do you need to keep your legal documents in a safe place? Molded chests from the famous Honeywell Trademark are the most durable and sturdy. They enable reliable protection from heat and moisture. The chests are designed for providing safe storage of personal documents and official letters.
Honeywell safes are well-designed and top-quality. These products are manufactured by a USA-based company (LH Licensed Products, Inc.) Being an exclusive licensee, a manufacturer and distributor of Honeywell safes, it's well-known over the world now. The factory is California-based. So, the risk of wildfires and floods is considered. Residential fire and home water damages are to be eliminated for sure.
The filling safe boxes comply with the UL fire safety standards. The item 1112 is comparatively new. It's available on the market for about a year. However, its protective ability is impressive. Fire protection for up to 60 minutes is ensured. The heating temperature the safe stands is up to 1700° F.
Interesting Information
Due to an innovative waterproof seal, the box content remains dry. It can easily survive a flood for 24 hours. Even being submerged up to 39 inches underwater, the fire box is completely safe from potential water damage. Self-explanatory 7-year warranty offered by the manufacturer is so long. Additionally, if a fire happens, the safe will be replaced for sure.
What's about the size? Item No. 1112 is not the largest available in the Honeywell range. Meanwhile, it still fits A4 legal files and letters. It is not too deep, accommodating not many documents. Unfortunately, this item has no handle. You can use it as a cabinet. For example, I can place a fireproof box near me, that is in a study or in an office.
However, its weight is so heavy! Therefore, I think, it should contain some metal parts. Is it made of fireproof ABS plastic? It should be a great material, tough and impact-resistant. At least, the latches are made of lead. They are not too reliable but great by design.
Pros
durable;
solid;
long fire protection time;
advanced water seal;
7-year warranty.
Verdict
So, I recommend fireproof chests to you. What to look for when choosing a fireproof document safe? This item ensures the longest possible protection. It's sturdy, heavy-duty and reliable. It's equipped with a key lock. 2 entry keys are available. Don't throw them away or ask the Sellers to send you a replacement one.
7. SentrySafe CHW 20205: Fireproof Box with Handle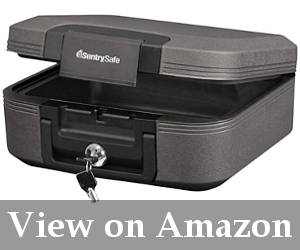 Just look at this box! It's definitely designed for household use. Being compact, the safe can find enough place in your wardrobe. The box looks like a small suitcase. It's well-made, simple and elegant by design. Meanwhile, the product still ensures the necessary fire, security and water protection.
The UL Certificated fire protection level is not the highest possible. The box is declared to stand up to 1550 degrees of heat during 30 minutes. It can be submerged to water for 72 hours. These properties are ETL Verified. Additionally, the tubular key is reliable to keep your privacy. Interior lighting is a great, unique feature. It provides visibility in poorly lit locations, for example, in your wardrobe.
So, the box is not large. It's well-suited to your digital media storage and protection. You can place your valuable DVDs, CDs, photos, memory cards inside. Small valuables can be also kept safe. However, box is too small to documents. At least, standard A4 sheets of paper can't lie flat in a box.
Additional Information
Be aware, it's not designed for firearms of any kind. They can be prone to moisture damage. Quite naturally, the box is more commodious and reliable than fireproof lockbox bag for documents. It comes with captured fire insulation. I would not compare fireproof box vs fireproof bag, as it's much larger, waterproof and more reliable in terms of fire protection.
To compare with the similar items, the safe's weight is not too impressive. However, it's still heavy and sturdy. The box is solid and roomy, suiting domestic needs. According to the manufacturer's page, it comes with a handle. This way the safe makes transportation of your valuables easy and convenient.
Pros
compact;
easy-to-carry;
reliable;
user-friendly.
Verdict
Thus, I recommend the CHW 20205 safe for household use. It's great to keep all available digital media protected and undamaged. The box is comparatively compact and lightweight. It's user-friendly, coming with an interior light. A reliable lock with tubular key is another handy option.
8. SentrySafe FHW40100: Heavy-duty, Ample Fireproof Box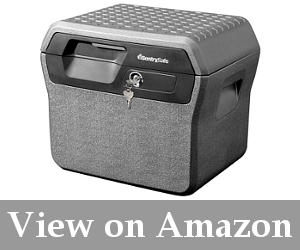 I think this safe is the best for use in your office. It's durable, sturdy and spacious. The box has plenty of room inside. It fits all your important documents and digital media. It's elegant, stylish by design. So, the box would look great in your wardrobe or book stand. Its surface looks like textured, resembling upholstered furniture items.
Quite naturally, it's plastic. The safe should include a lot of metal parts, as its weight is impressive. So, it's sturdy, able to survive a drop from the 2nd floor onto concrete. It doesn't crack. However, I would recommend you to bolt FHW40100 box to a wall or floor. You can drill holes on the bottom and secure the safe with heavy-duty screws and washers. Purchase a reliable bolt-down kit additionally.
So, the model has the best possible protection rating. It protects your valuables from fire and floor. According to UL Classification, it stands heat during long 30 minutes. It easily stands high temperature up to 1550 degrees F. During a flood, it remains airtight for 72 hours. Water submersion won't damage your papers and other records.
As to protection from theft, I think it's just decent. Flat keys are easy to use both by safe owners and anybody else. Unfortunately, release latches are plastic, quite flimsy. I would not also advise you to transport the box often. It comes with carrying handles. No, they don't break. But it's not very handy to carry it, as it's pretty heavy.
Interesting Facts
The manufacturer provides a 1-year limited warranty on this product. Its capacity is 0.66 cu. ft. 11.6" x 12.0" x 8.1" interior dimensions imply thick and reliable walls. 2 keys are available. Elastic straps are optional.
Pros
sturdy;
durable;
reliable fire and water protection;
portable;
large-capacity.
Cons
flimsy latches;
I wish the user manual was clear and detailed.
Verdict
I recommend FHW40100 fireproof box by SentrySafe for office use. It's stylish by design, sturdy and large-capacity. The safe provides high level of fire and water protection. However, it's heavy-weight, not too handy to transport or open frequently.
9. FireKing SS104-A: Heavy-Duty Fireproof Box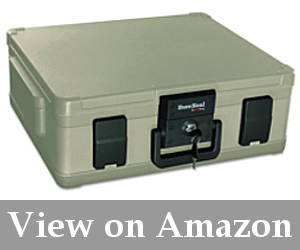 Scattered and isolated thunderstorms are not dangerous. Severe ones might be devastating. Strong winds knock down trees. They also cause some flooding. Additionally, lighting strokes start wildfires. I hope heavy rain doesn't swamp drains and creeks. But you are to protect your important documents and valuables.
SureSeal safe chest models ensure complete defense for them. Model SS104 is one of the largest. The box is heavy-weight. If you want to move it, it requires two people. So, it's better to use the chest only at home. It's worth it, as it's pretty spacious. There is enough room to place your legal-size documents. Digital media and irreplaceable items also fit there.
Useful Information
The chest is pretty reliable, heavy-duty. It stands out by:
1-hour fire protection rating.
Tolerable internal temperature that doesn't exceed 350 °F during a fire.
7-year limited warranty.
Dual compression latches.
Wide and convenient carrying handle.
Does the chest consist of molded plastic? I guess it won't surprise you. Modern composite materials are heat-resistant and non-toxic. They should be lightweight. Therefore, I think a kind of metal layer is anyway available.
Locking mechanism is pretty good. It consists of two latches and a key lock. What about anti-theft security? I think it's not bad. It still takes some time for a burglar to crack the lock. The chest is portable, but walking off with it is a bit laborious.
Meanwhile, protection against water damage is perfect. The safe box is completely water-proof. O-ring gasket seals the lid. So, if you submerge the box, interior remains dry.
Pros
perfect fit;
plenty of room;
outstanding fire/water security;
reliable latches;
solid and durable.
Cons
heavy-weight;
simple key lock.
Verdict
SureSeal chest by Fire King is reliable and heavy-duty. It provides a lot of room to keep all your valuable and irreplaceable items safe. The box is perfect in terms of fire and water security. It's heavy, difficult to move. So, I recommend this item for household use.
Decent examples of fireproof boxes
In addition to this top 5 of the best fire-retardant boxes, we have determined 4 other great models that might interest you. With some unique features and high quality, they also deserve your trust in unpredictable life situations.
1. SentrySafe Pistol Safe QAP1BE – Best gun safe box
The weapon should be kept in the specially designed for it places and out of the kids reach. That is the reason to keep a gun in the safe from SentrySafe brand. A biometric lock will open the lid to get the gun only to certain people with necessary fingerprints.
In addition, this small safe box with a code has an electric lock with a silent keypad to open the lid quickly. You get quick access to the pistol thanks to the compression gas strut and pry-resistant door while firearm security will not allow anyone to take it from the box without authorization. The interior is lined with foam to prevent the gun from damages while the box is made of the thick 12 Gage steel for durability.
2. Master Lock Key Box 207D – Best magnetic key holder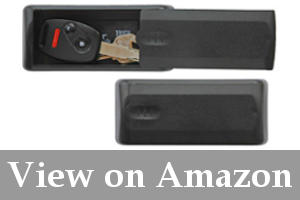 If you have a couple of very important keys, it is reasonable to obtain a good storage box for them. This Master Lock is designed to store 1-2 keys that should never be lost. The case is magnetic and can be attached to any steel surface.
His cover is made of durable plastic with a sliding cover equipped with a built-in stop to prevent it from falling down. The case is 2 inches wide so not only keys can be hidden in it. This versatile case can be used for spare keys or other small valuables that must be hidden from others.
3. STEELMASTER Tiered (Cantilever) Cash Box – Best box cash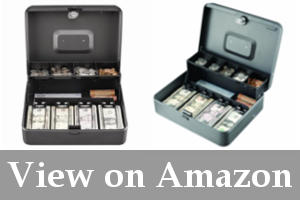 There is always a challenge where to keep a huge sum of money. A special cash box is a necessity for people who like to have money organized. There is a cantilever tray with 5 compartments, four of which are equipped with bill weights for holding cash. There are also 4 smaller compartments for coins or small jewelry. The box is locked with a key, while the lid will remain open as soon as you release a single push button. The box is compatible with many security cable locks if you wish better protection of your content.
4. SentrySafe Cash Box, Locking Cash Box With Money Tray, Medium, CB-12 – Secure cheap cash box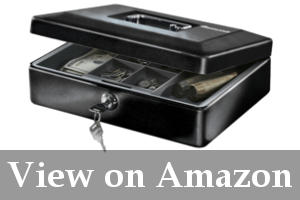 It is preferable to keep huge sums of money in quality money boxes. This cash box is provided with an interior cash tray to keep not only paper money but also coins, receipts, cheques, etc. You can remove it if you need more space to keep other valuables – up to 0.2 cubic feet. Made of reliable and durable steel the best money safe box is portable as there is a comfortable fold-away grip handle attached to the lid and lockable with two keys included. There is a nice design with rounded corners, enamel finish, and deep black color.
Final Conclusion
Analyze what features are important personally for you and choose the best fireproof box from the examples offered above to be pleased with the new bargain and store your valuables in safety.