How do you store your passports, files, jewelry and cards? They are to be secured against fire and flood. Any kind of damage or loss is to be prevented. Keeping them safe in the best fireproof waterproof document bag is beneficial.
A pouch that is lightweight and easy to carry saves your precious time in case of emergency. It finds enough room in a glove box of your car or light-duty truck. A bag can be retained at your home or office.
If you move or go on business often, a solution like this is a real catch! So, what is a reliable fire protection bag? It withstands temperature up to 2000°F. A top-quality bag is multi-layer, equipped with multiple dividers and zippered pockets. Are there other important features to look for? Let's check it right now.
See our selection of the best product!
Prices pulled from the Amazon Product Advertising API on:
Product prices and availability are accurate as of the date/time indicated and are subject to change. Any price and availability information displayed on [relevant Amazon Site(s), as applicable] at the time of purchase will apply to the purchase of this product.
7 Best Fireproof Waterproof Document Bags in 2021
Rank
Image
Product
#1.
Roloway ED-B02

Max. Temp., °F - 2000
Size, in. - 17x12x5.8
Weight, lbs - 1.7
Layers, No. - 2+2
Warranty - lifetime

Editor's Choice


Check Price


Read Our Review
#2.
Roloway RO-BA-02

Max. Temp., °F - 2000
Size, in. - 15x12x5
Weight, lbs - 1.28
Layers, No. - 2
Warranty - lifetime

Check Price


Read Our Review
#3.
Scorch Guard SG437

Max. Temp., °F - 2000
Size, in. - 16x12x5
Weight, lbs - 1.9
Layers, No. - 5
Warranty - lifetime

Check Price


Read Our Review
#4.
Valtcan bag

Max. Temp., °F - 2000
Size, in. - 15x11x3.5
Weight, lbs - 1.6
Layers, No. - 2+2

Check Price


Read Our Review
#5.
Engpow TG1216

Max. Temp., °F - 2000
Size, in. - 16x12x5
Weight, lbs - 1.5
Layers, No. - 2
Warranty - 2

Check Price


Read Our Review
#6.
BLOKKD FS0002

Max. Temp., °F - 1100
Size, in. - 16x11.5x3
Weight, lbs - 1.1
Layers, No. - 2

Check Price


Read Our Review
#7.
VICNOVA LV001

Max. Temp., °F - 1000
Size, in. - 15.8x12.7x0.4
Weight, lbs - 1.3
Layers, No. - 3

Check Price


Read Our Review
1. ROLOWAY ED-B02: Best Large Fireproof Bag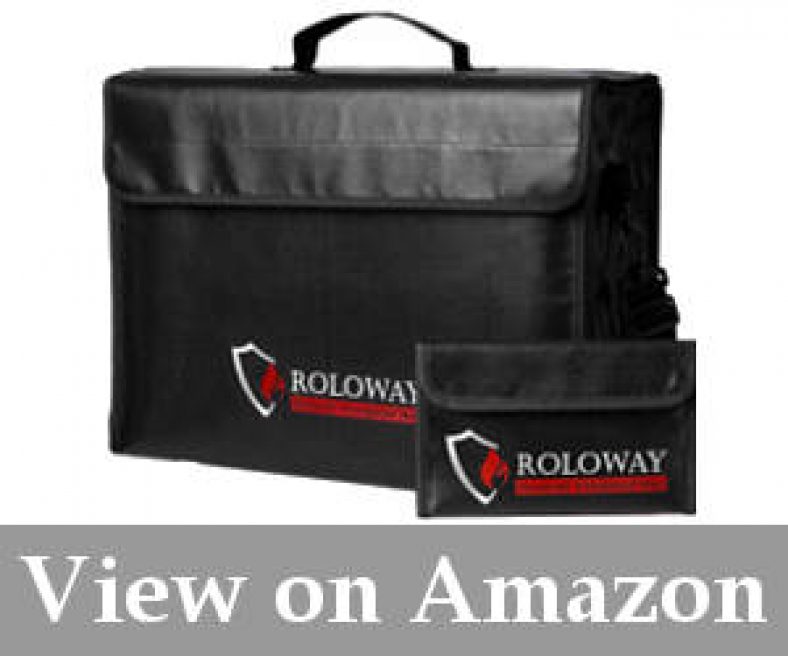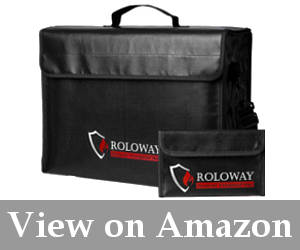 Do you work in an office? Are you a member of a large family? A large, jumbo bag is for you! Its capacity is sufficient to carry a laptop, valuables, jewelry and an RC battery to charge your vehicles and devices. Quite naturally, your legal and personal documents and files are to be stowed safely and accurately.
What is the bag's general application? It's essential during family, camping and fishing trips. The bag's width can be easily enlarged up to 8 inches. A shoulder strap is available. Being able to accommodate 3 ring binders simultaneously, the bag is completely waterproof. How to fireproof money? A bonus bag for cash is enclosed.
Both bags stand any weather condition, including hurricanes and storms. Their water-resistance is described as an ability to survive firefighter's hose's spray. Full blast provides great power. Unfortunately, time to stand it is not specified. But I believe, it's sufficient to the fire to be extinguished. Additionally, 2 silica packs are enclosed. They keep moisture away when humidity is high.
Interesting Characteristics
The bag stands temperature up to 2000°F. Its flammability rating according to UL94 standard is VTM-0. Fireproof fiberglass is a thin material that ensures these great properties. Meanwhile, the bag is foldable. It fits the best fireproof box, document safe or a cabinet. So, when you come back home, you don't need to unpack it.
Pros
perfect during trips;
holds a lot of stuff;
sturdy;
foldable;
well-made.
Cons
not completely waterproof.
Verdict
So, why do I recommend the security bag? It's large, handy and reliable. The bag is equipped with a locking zipper. The seams and closures and reinforced, ensuring perfect weather and water protection. Additionally, it's coated with non-itchy silicon. So, you don't need to wear gloves to touch the surface.

2. ROLOWAY RO-BA-02: An Ever-strong Fire Resistant Pouch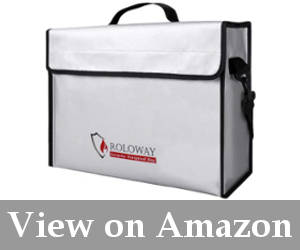 Do you need a fireproof bag to be used during business trips and long commutes to the office? Large (XL) capacity may be considered classic. It is sufficient to accommodate legal papers. That is, the size corresponds to the dimensions of a top-quality fireproof box for legal-size documents.
The difference is only in width. 5 inches are sufficient to store up to 500 sheets of paper. Additionally, you can put your valuables, photos, documents and cash inside. What about your laptop? A small one fits the space. So are your photos, DVDs and batteries.
That is, it lets you consolidate everything you need to evacuate. The bag is handy during a hurricane or storm. It's a bit more pliable than a box. Therefore, it's easy to pack. Meanwhile, content of 2 standard boxes finds room in the bag. Don't you believe it? Just try.
Additional Accessories
The bag's size is very good. It's only a bit smaller than Jumbo dimensions. Meanwhile, it has the basic Roloway features, such as;
Adjustable shoulder strap and soft handle.
Top-quality fireproof materials.
Safe to touch silicone coating.
Reliable zipper and reinforced seams.
Lifetime warranty.
The bag is certified according to UL-94 standard. It has got a high VTM-0 rating. So, it was tested under the temperature up to 2000° F. According to the test report, it's ok during 3-4 hours. Thin, but strong fiberglass material stands even blast water. It was successfully tested by garden and firefighter's hoses.
The difference is only in size, design, and color. Should a fireproof bag look chic? It is to be practical. So, black color is common. This bag is silver. I think it's beneficial as it reflects light better than dark surfaces. So, I recommend this item. The only problem is with laminated 15" documents that are impossible to fold up. Zipper opens only 14", so you would need a larger bag to fit them.
Pros
lightweight;
easy to carry;
good capacity;
fireproof and water-resistant;
what you need to evacuate.
Cons
opening is narrow to place legal-size documents;
Velcro enclosure is not very durable.
3. Scorch Guard SG437: Convenient and Roomy Fire Protection Bag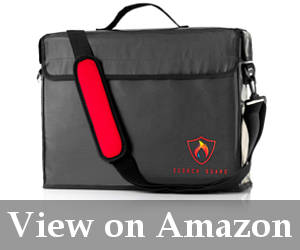 That's the right size! The 16-inch long bag is roomy enough to fit 15-inch papers. It holds legal-size documents. So, the bag is what you need to evacuate from fire. Place your laptop, money, passports and valuables inside. In case of emergency, just grab the bag and go.
What does the fireproof document bag test speak for? It complies with UL-94 and IP55 standards. This means a high level of protection against fire, dust, and water under low pressure. This corresponds to the highest quality of the case.
What about ASTM 119 standard? It's commonly applied to building materials, such as walls, partitions, roofs, and floors. For a bag, this fire resistance is awesome. How was it archived? Due to 5 layers of perfect materials, including fiberglass, aluminum foil liner, and silicone.
Useful Facts
Since its foundation in 1902 in Northern Minnesota, 3M has become a global powerhouse. Nowadays, it's recognized internationally. The fireproof bag is among its 60,000 innovative products. It's portable, solidly-built and reliable. The surface is a bit sticky due to silicone coating, but completely safe to touch.
Pros
convenient;
roomy;
flexible;
U-shaped opening;
secure closures and zippers.
Verdict
So, I recommend the bag. It's roomy, heavy-duty and stylish by design. A lifetime warranty from the manufacturer is a good reliability proof. Scotch Guard brand aims to protect various things from water and damage. Wide range of liquids, stain removers and protective films are manufactured under the trademark by 3M Company.

4. Valtcan Hurricane Prep: Lightweight Emergency Fireproof Bag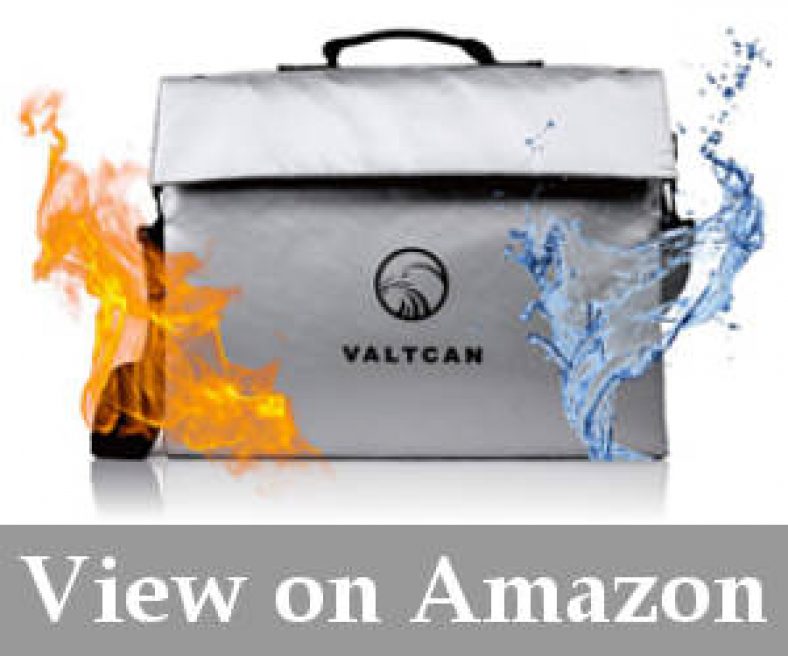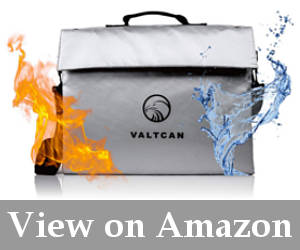 How many important documents do you keep at home? If you don't carry legal papers from your office, they are not numerous. Your personal documents may include only your passports, birth certificates, marriage license, car titles, insurance policies and wills. Is a fireproof safe worth it? In this case, buy this perfect bag by Valtcan.
The bag's size is standard, suitable to hold legal-size papers. It's only a bit thinner. 1.5-3- inch thickness is sufficient to meet all household needs. But for the documents, it accommodates valuables, laptop, batteries to charge it, cash and all essential stuff.
However, as the bag is compact, you can keep it under your bed, in closet, or, as usual, in a safe. Storing the bag in a low place is a wise piece of advice, don't you agree? During a fire, it's safer. However, what if a flood happens? It's up to you. Just select any location within your house or car you consider to be the safest. The bag fits it for sure.
Useful Information
During a hurricane, fire or another emergency, a thinner bag is easier to carry. It's lightweight and handy. Meanwhile, does the fireproof bag really work? This product is fireproof and 100% water-resistant. It withstands up to 2000 °F. Are there any confirmations of flammability rating? Request test results from the seller. They are to be enclosed.
Nevertheless, the bag seems to be made of the same, top-quality fiberglass. Silicon coating is a must if you want to avoid allergy and itching. Several internal layers, Velcro strip and zipper ensure reliable protection. The bag is well-designed, heavy-duty and easy-to-carry.
Allotted with a 2-stage closing system. As well as great 13-inch zippered opening. They help you to keep your papers organized.
Stitching is strong. A shoulder strap is available, so, hands-free carrying is ensured.
Pros
durable;
heavy-duty;
well-made;
multilayer protection;
compact.
Cons
bit small to hold a lot of papers.
Verdict
Therefore, I recommend the bag. Its capacity is not large. However, it meets all household needs, being compact, lightweight and handy.

5. ENGPOW TS1216: Large Capacity Fireproof Bag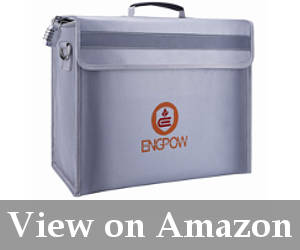 Look at this bag! It's so wide, convenient and secure. The product looks rather like a fireproof box. Why? Because, of its shape and capacity. It has enough space for all your essential space. Everything from documents to laptop finds room inside. Your valuables like coin and miniature antique collectibles can be properly packed and organized.
This item is rated very high, according to various fireproof document bag reviews. It's handy, portable and durable. The highest possible for bags flammability rating is ensured. It's confirmed not only by SGS test but by ROHS IEC62321 standard. It states that no harmful substances are found in the coating and lining.
Are the materials unique? They are upgraded. Technology is decisive when it goes about safety. So, the aluminum foil fiberglass that is coated by 2 layers of silicone makes the bag's interior smooth and safe to touch. The difference in material quality is easy to feel. Liner is soft and smooth. It has no smell.
Interesting Features and Specifications
Meanwhile, the bag has several significant advantages. It's 5-inch wide, enlarging up to 7 inches. How do you protect important documents from fire? Just place them into binders and put in the bag. Not less than 3 binders are easy to fit. Your documents are well-organized.
Additionally, the pouch has several small pockets inside. They are convenient to store tickets and cards. The bag is silver by color, equipped with a reflective strip. It helps you to find and grip your stuff at night or during a power outage. Finally, a combination lock is enclosed as a gift. It secures the zipper during your trips. Therefore, I think this product is worth your attention.
Pros
upgraded materials;
large capacity;
small pockets inside;
reflective strip;
combination lock.
6. BLOKKD FS0002: Lightweight Fireproof Bag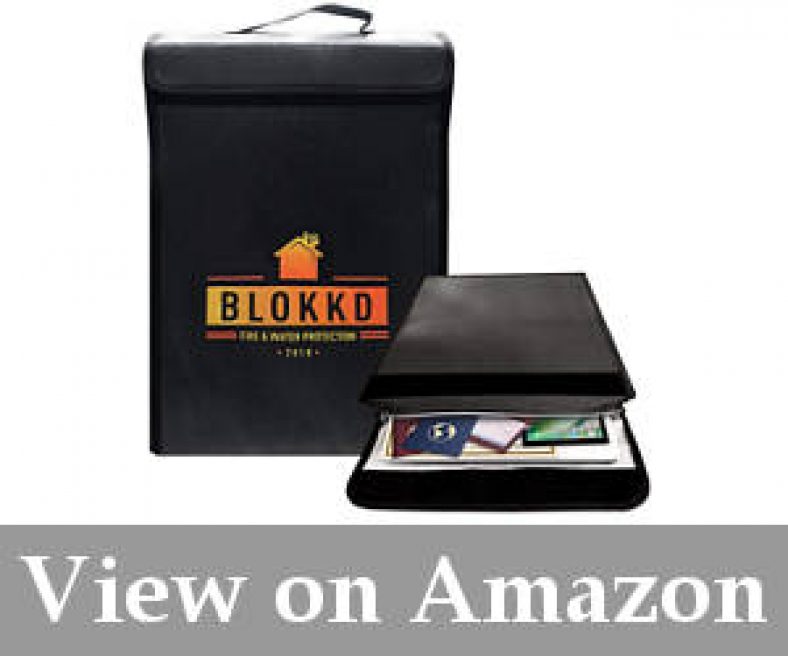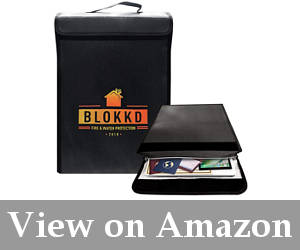 Do you prefer to buy a bag from a US-based company? You get some customer service benefits. BLOKKD is located in New York, I guess, it was established 2018, as the year is a part of the logo. So, the bag is designed in NY. Unfortunately, it's still assembled in China.
What are the product's distinctive features? I would rather specify standard ones. Its capacity is large, but not outstanding. It holds legal-size documents, but not many. With 3-inch width that expands up to 5 inches, it's spacious, but not giant. Materials are common to the industry, but not unique. Exterior is safe to touch, but a bit sticky.
Flammability rating that is V0, according to UL94 standard is just decent, as well as max temperature that is 1,100° F. It's stated on the manufacturer's site. Sellers specify also that the test carried higher temperatures, up to 1500°F. Does it mean the bag doesn't withstand them? I hope, you never put it to the test during a fire.
Metal zipper with a Velcro flap is a good option. I guess it's a feature all top-quality counterparts have. Combo lock is a product's strength. Fire-retardant stitching is. What I like is the bag's vertical design. It's innovative, being business-style and handy to pack. White lining of black bag looks great and accurate.
Pros
unique design;
lightweight;
strong zippers protected by combo lock;
designed in the USA;
sufficient capacity.
Overall Impression
So, I recommend the fireproof and water-resistant bag to students, business people, homeowners and travelers. It's stylish, handy and secure. The bag protects your documents, valuables and stuff. It's lightweight and practical. However, I am not sure about the warranty. Ask sellers about it.

7. VICNOVA LV001: Sturdy Fireproof Bag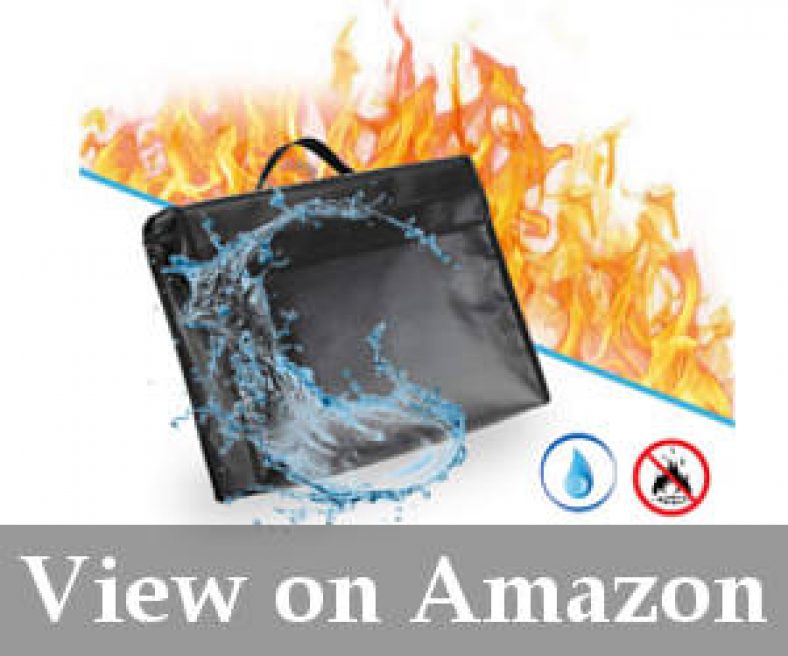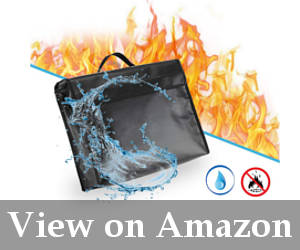 Now I would like to review one more bag. Just look at it. It's practical, foldable, durable and convenient. You can use it to store your emergency binders. Lage color is neutral and elegant. It's something between grey and black. Size is large, but not ultimate to hold legal-size paper.
Some problems or drawbacks you face upon unpacking the parcel exist. The bag has only one big compartment. It's not the best for documents' and files' organization. The opening is a bit small or narrow. Zipper is not too reliable.
Additionally, flammability rating is not high in comparison with similar products. Heat up to 1000° F may be too low, envisaging fire risk. Fireproof materials seem to be the same. Is glass fiber the same thing that fiberglass? Are silica and silicone alike? Maybe, the thickness matters. I guess it might impair quality a little.
Pros
practical;
foldable;
compact;
elegant by design;
durable.
Cons
small opening;
low flammability rating.
General Impression
Commonly I recommend the bag. If you like the design, style and size, it's ok. The bag suits multiple applications like traveling, evacuating and commuting. It's practical, foldable and transportable. The surface is anti-itching, but a bit tacky. So, it meets some light-duty needs.
How to Choose Best Fireproof Waterproof Document Bag: Buyers' Guide
Your cherished valuables and important documents are to be secured. Safes protect them from theft, fire, flood and other damage. Do you think, these threats are not common to face? Unfortunately, it's not true.
Wildfire risk is extremely high in southern states, such as:
Texas.
Kansas.
Oklahoma.
Louisiana.
California.
It's also very high in Maryland. Wildfires happen due to lack of precipitations and low relative humidity. They peak in spring and fall, burning thousands of acres of forest, grass, and brush.
Residential fires happen due to short circuits, smoking, cooking and household appliances misuse. Meanwhile, hurricanes threat not only coastal areas. Floods may be caused even by rainfalls. What if you suddenly need to evacuate your home? No reason to risk your lives. Just grip your emergency bag and escape.
Benefits of Fireproof Bags
If you need to travel or evacuate, bags are what you need. These storage units are:
portable;
lightweight;
easy to carry;
handy;
foldable;
compact.
Quite naturally, fireproof box vs fireproof bag is more durable and sturdy. Burglars won't easily open it, as any box is lockable, protected from unauthorized access. These safes are sealed, so their water-resistance is perfect. It allows up to 100 hours of submergence.
However, bags are much easier to carry. They are equipped with soft, textile handles and adjustable shoulder straps. They are also more convenient to store in your house or office. As bags are foldable and pliable, they can be placed anywhere: in your safe, under the bed, on a cabinet shelf.
Meanwhile, safes are much more heavy-weight, but not larger. Capacity of both storage unit types is about the same. You can place 3 ring binders with documents inside. Moreover, flexible bags expand, accommodating all your essential stuff and valuables.
Here you can see more information about best fireproof box!
Do Fireproof Pouches Really Work?
In terms of fire protection, they are reliable. Above all, temperature bags withstand is up to 2000°F. These results are proven by trustworthy SGS tests. Meanwhile, are boxes made of thick heat-resistant plastic more fire-resistant? No, there fire protection rating is only up to 1500-1700° F. However, they endure heat for 30 minutes or an hour.
Nevertheless, how can this thin, flexible fabric be so perfect? I am surprised! These solutions are innovative, based on nanotechnologies. To sum up, great thermal resistance is achieved due to terrific properties of fiberglass fabric that is:
strong;
elastic;
chemical-resistant;
versatile;
long-lasting.
Its low electrical conductivity and high thermal endurance are amazing. The only problem is that uncoated fiberglass fibers are irritating. Respectively, they might cause allergy. Therefore, silicone is applied. Most importantly, it grants additional weather protection and water repellency. Meanwhile, chemical and abrasion resistance may be treated as a beneficial bonus.
What is the Best Fireproof and Waterproof Safe for Home Use?
Both safes and bags have similar selection criteria. Important features to choose a top-quality storage unit include:
size and capacity;
weight;
materials;
enclosure;
flammability rating;
waterproof properties.
In an office, if you store multiple legal documents, plenty of room is necessary. Household use implies protecting only essential stuff, valuables and personal documents. A compact, lightweight bag is suitable in this case. It's easier to carry and store.
Meanwhile, a fireproof bag is much more versatile. It can be used at home or in the office. Take it along when you travel or evacuate from a fire or hurricane. It suits multiple applications, being fireproof, water-resistant, handy and roomy.
General Conclusion
Jumbo fireproof waterproof document bag by Roloway is the best. It's large, sturdy and easy to carry. XL Roloway bag is strong and helpful. It's silver by color, great by design. The item by Scotch Guard is convenient and solidly-built. It ensures unrivaled fire protection due to 5 layers of innovative fabric.